How We've Helped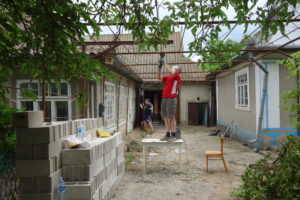 Homes for the elderly, and abused kids
Our dream of establishing permanent residences for abused children, and elderly living in poverty, is coming to fruition!  Through the generosity of a UK church group, and 3 of my friends, we were able to purchase and begin renovations of 2 homes in the village of Caplani.  We've posted a video on the crowd funding sites "gofundme" and "youcaring" to raise the addition $7,000 needed to complete the project.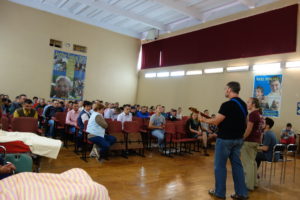 Entertainment for disabled
We teamed up with a missionary from the United States, and a group from the UK, and visited two centers for the disabled, where we sang for them, prayed for them, and thoroughly enjoying engaging with them.  What a true blessing for us.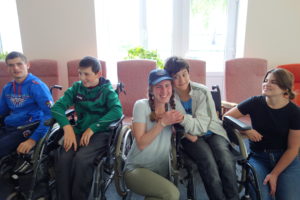 Assist at camp for disabled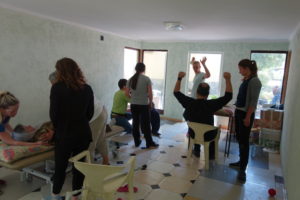 Through our friends at the Phoenix Center in Riscani, Moldova, we were able to acquire a massage table that was used at a camp for over 75 disabled.  Afterwards, we donated the table to the Orhei Center for Disabled Boys.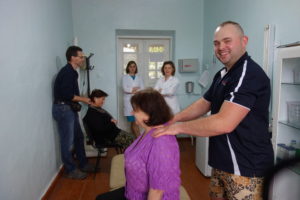 Collaborating with the Salvation Army
We joined the Salvation Army's mobile medical team and visited 2 poor villages, where anyone who needed medical attention, including physical therapy, received it for free.  We will team up with the ENT doctor to conduct hearing tests and provide free hearing aids in the near future.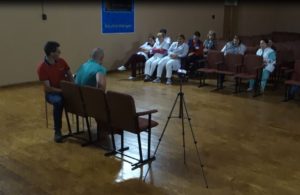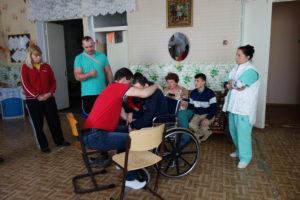 Physical therapy seminar
We facilitated a PT seminar for 17 staff members at a center with over 200 disabled males.  The center if government run and does not have a therapist on staff.  The therapists from Switzerland and Moldova also instructed the staff on the use of mechanical lifts to move the residents from their beds to wheelchairs and baths.  Previously, they had been doing this manually, which was very strenuous for them and dangerous for the residents.
Hearing tests for disabled We arranged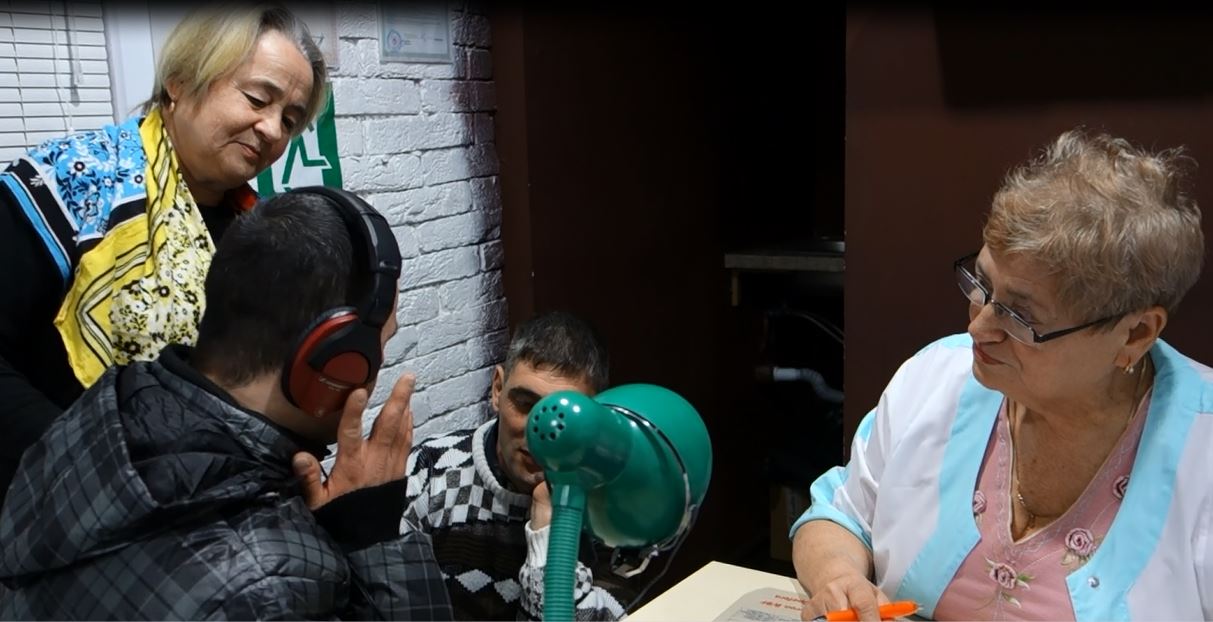 and paid for hearing tests for 8 males from a center for disabled, and are now in the process of acquiring hearing aids for two of them.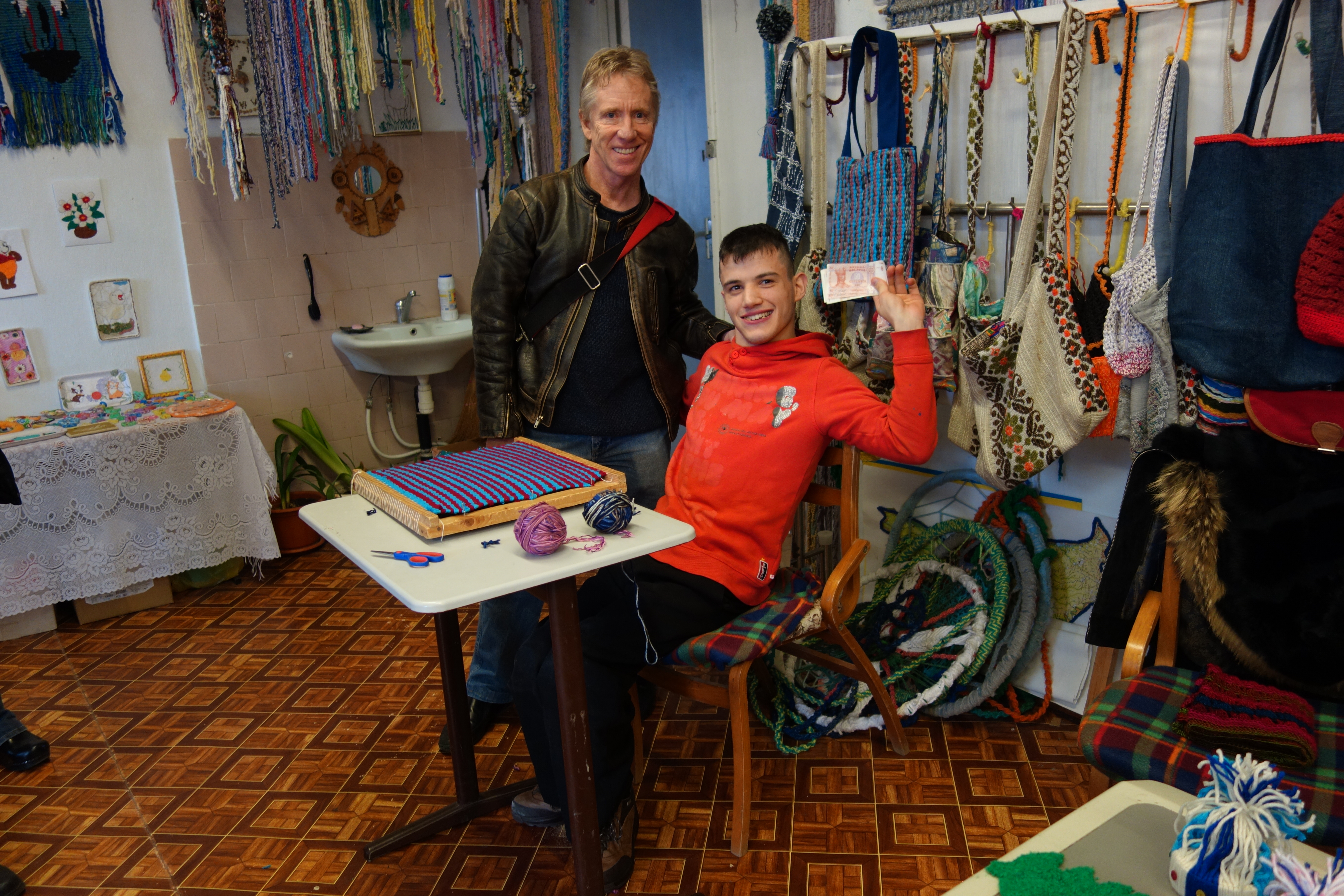 Sold handbags for disabled
We purchased several handbags made by two boys from a residential center for the disabled, then sold them to friends and church members in the UK, giving the significant profit back to the two boys.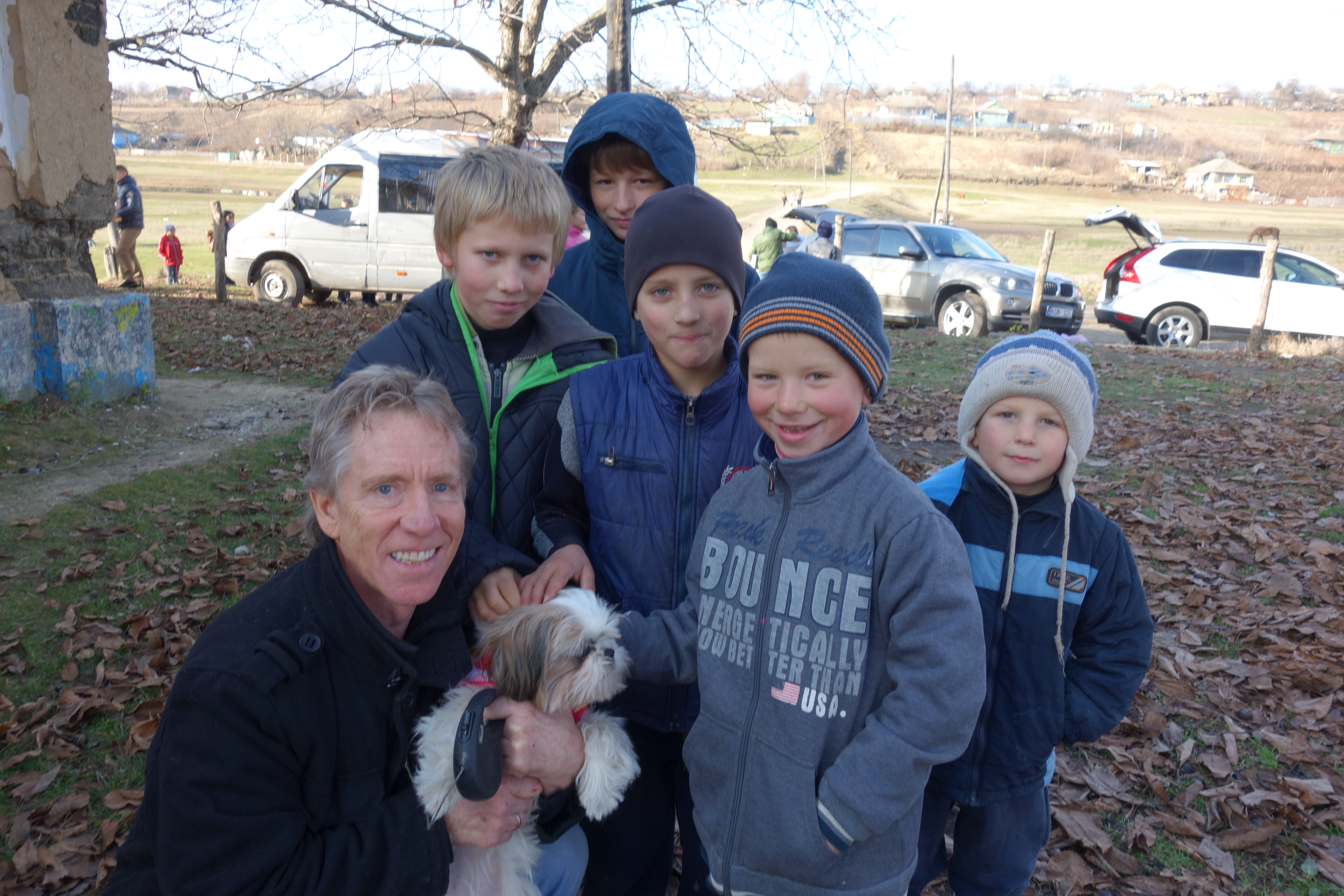 Participated in fun day for disadvantaged children
We helped a group of people from local churches to share food, clothes, toys, and fun activities with over 120 children in a very poor village.  This was certainly the most enjoyable event of the year for the children, who were clearly thrilled.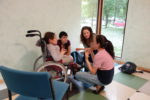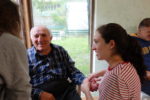 Camp for severely disabled
We helped out at a camp for severely disabled adults where over 160 people.   Through the efforts of two volunteer physical and occupational therapists from Switzerland, and several other volunteers, all of the camp participants received personal attention to their physical needs, which most had not had in several years if at all.  All of the participants were encouraged and grateful for the prospect of one day walking or at least partially overcoming their afflictions, and two of the people walked for the first time in decades.  The prayers we offered were certainly answered.
Paid for medical expenses
We paid medical expenses for a needy woman who underwent Gall Bladder surgery.  She has recovered and is doing very well.
Car repairs
We provided funds to repair the car of a deacon from a local church who receives a meager salary and needed his car to deliver food packages to the needy.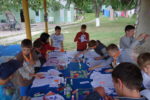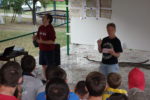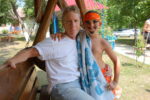 Camp for the deaf
Thom helped out at a camp for deaf children and teens sponsored by the Woodall Foundation.  It was uplifting to spend quality time with over 70 wonderful kids and leaders who truly enjoyed being with one another at this yearly event, which is undoubtedly the highlight of their year.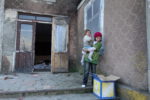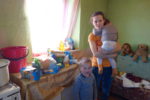 Helping the desperately poor
We continued to visit very poor families in one particular village and were able to help a young mother with 3 children relocate and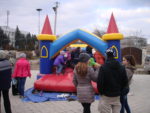 Fun day for children and families
Thom participated in a children's program for needy families in the village of Cruileni, where over 40 children and parents were entertained with games, songs, and a bouncey castle, and participated in religious activities. All children were given a bag of sweets, and the parents received a box of food compliments of Thom's friend and fellow missionary, Janet Brown.  The foundation rented the facility for the event.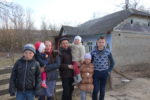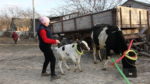 Dairy cows for a family
We purchased a dairy cow and a calf for a family so their 9 children can have milk for the next few years. The entire family lives in one room of a home that measures 3 x 4 metres.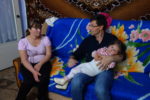 Helping a disabled girl
We secured a wheelchair for a severely disabled 5-year-old girl, and arranged for a physical therapist to work with her and provide advice to her parents in the hopes that one day this angel will be able to walk.
Sharing food, clothing, Bibles, and love with poor families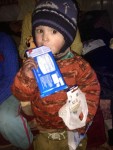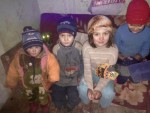 We have been visiting very poor families in a nearby village each week to help them survive the winter. Two of these families are headed by unemployed young mothers with numerous children, and very marginal living conditions. Seeing the children's faces light up when they are given simple things like socks and a banana is both rewarding and sad. To see first hand the effects of abject poverty on children and mothers who are struggling to provide for them is heartbreaking. We are trying to work through a local church to help families like these by creating a support group that will meet at least once a week, allowing these women to share their stories, receive guidance, help each other, and give them a break from parenting.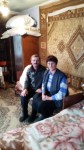 Home purchased for needy family
A family of five had been living in a 10 x 12ft room in a barn due to their home being destroyed by fire.  One of the members, a 14-year-old boy, had recently been reunited with the family after spending years in an institution.  His younger brother, however, remained institutionalized due lack of space in the home.  We were blessed to be able to help the family purchase 2 small homes in their village, which will provide adequate housing, and allow their young son to be reunited with the family.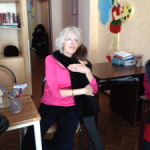 Ana rescued  
In 2012, we heard about a six-year-old Moldovan girl, Ana.  She lived on the streets in her village because she was abused by her stepfather.  Her mother refused to intervene because she too was abused by this man.  Although many people in the village knew about Ana's plight, including the mayor and Ana's paternal grandmother, no one came to her aid.
After discussing the situation with another Moldovan missionary friend, we felt God's calling to help this little girl.  My friend took the lead in contacting influential individuals to enlist their help.  After many struggles, court cases, and placements, Ana is now in a loving Christian children's home, and her parents' paternal rights have been terminated.
Misha works with his local church providing care for disabled individuals in his village. Unfortunately, he does not get paid for his efforts, is unable to find work in his village and, therefore, struggles to provide for his wife, son, and infant child, Laura.
Laura recently had surgery to repair blockage in her intestines but still suffers from this ailment.  Misha was brought to tears when we gave him money to allow him to take Laura to Romania for further treatment.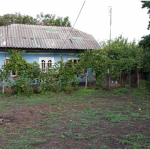 House purchased for two boys
A ten-year-old boy and his 11-year-old brother were residing in an institution because their mother is poor and had no home in which the children could live.  A journalist from the UK raised funds to buy the family a small home in their village and we contributed to the cause as well (the total cost for the home was $5,000).  The boys are now reunited with their mother and grandmother and are delighted to be back home.
Child rescued from prostitution
A 15-year-old girl was involved in prostitution, presumably forced into this situation by her mother who is also a prostitute.  Despite a desire for things to be different, her pimp would not allow this.  We located a Christian transition home for females recovering from human trafficking, which agreed to accept her into their program.  This young girl is excited to have this opportunity to lead a normal, healthy life.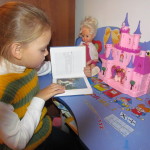 Handing out Children's Bibles
Most children in Moldova do not own books, so to receive one is a very special gift.  We have purchased several children's Bibles, which we are handing out to the children we encounter in order to help them learn about God, while enhancing their reading skills and self-esteem.  So far we have given out 31 Bibles to children.
A teen-aged couple with an infant were living in a mold infested home with no heat, no stove, or refrigerator.  We contributed to the cost of repairing  the home to make it habitable.
Clothes for orphan siblings
Eight and ten-year-old orphaned siblings were recently transitioned from an institution to a loving foster home.  The family will only receive a total of $50 per month for the children. We were able to help by purchasing clothing for the children and a soccer ball.
Disposable diapers for disabled children
An eight-year-old girl and a nine-year-old boy who are severely disabled, live in families which are very poor.  When we asked how we could help, the mothers replied that they needed help buying disposable diapers for the children.  We were happy to provide this simple basic need.
School books for foster children
Three young boys who suffered severe parental neglect were told they would be placed in an institution.  They literally begged a family in their village to care for them as foster parents, and were recently placed with the family.  The boys needed books for school and the new foster parents, who will receive a total of $50 a month for the boys, did not have funds to purchase these books.  We were happy to provide funds for this cause, and were rewarded by witnessing the smiles on the faces of these three very surprised, happy, and relieved little boys.
Children from an institution go to the circus
Children from an institution were recently treated to a day at the circus by the NGO CCF (Child Community Family) where Thom volunteers.  We provided funds for the children to each have a Happy Meal from McDonald's after the circus, which was the first time they'd experienced this treat.  Needless to say, they were all thrilled.
Transportation for disabled child
Oxana is a 10-year-old girl with Cerebral Palsy and, due to her disabilities, is required to go to a rehabilitation center for therapy.  Unfortunately, the family could not afford to pay for transportation to the facility so we provided funds to meet this need, contributing to Oxana's quality of life.
Sharing God's word
In Thom's affiliation with CCF, he has had several opportunities to share God's word with his colleagues, who are almost entirely Russian Orthodox.  This had led to very interesting and deep conversations about the Bible, Jesus, and God's calling for all of us.